Since moving to Melbourne the ONE thing I have really struggled with and really miss is having three or four really good second hand bookstores to frequent. Can you recommend any ? I did find this list on line
Melbourne's Best Second-hand Bookstores
what are your opinions ?
In my life this week…
This week has been good. I spent a very delightful evening last night redesigning my blog background and creating a new header, and button. What do you think of the new look ??
For those of you receiving this on RSS here is a screen shot
Helpful homeschooling tips or advice to share…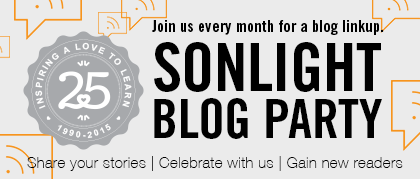 In our home school this week…
We went to Melbourne Zoo for the day.
Places we're going and people we're seeing…
We've been chauffeuring my husband to work each day as he has injured his back. Please keep him in your prayers for healing.
On Tuesday we spent the day at Melbourne Zoo with the Australian Canon Collective. It was such a lovely day. The best part was that I got to borrow and use the brand new Canon 7D Mark II camera and the L-series 100-400 mm lens for the day. Photo's to come
Sir N spent the day at a cousins house while we met up with some wonderful new friends from Queensland whom we met through Instagram. The best part is I discovered this new friend has a blog. A Mother's Faith Hope and Love
My favourite thing this week was…
Things I'm working on…
Virtual Curriculum Fair beginning on the 5th of January.
Meet some new homeschool friends. Here are 58 homeschool bloggers to meet.
Working out what our curriculum will be for 2015. So far I have settled on our Language Arts.
On Monday evening I will be sharing our Math, Logic and Science choices.
On the WWW I'm reading…
I'm cooking…
I'm actually experimenting with Trim Healthy Mama recipes. This year I want to focus on my health and part of that is loosing the extra pounds/kilograms I have gained with my pregnancies and immigrations ...
I mixed equal quantities of almond meal and Parmesan cheese and coated chicken in it before baking. This was so tasty I have decided to add it to our weekly menu.
A photo, video, link, or quote to share…
Blessings
Chareen
Connect with me

Linking to
Photo collages made with:
Photoscape
a FREE photo editor